VPS servers are more expensive than shared hosting, but you get exceptional performance and complete control that you will not find in a shared hosting environment.
You don't have to worry about good hosting because MilesWeb provides excellent uptime and speed. 
Reliable VPS hosting powered by MilesWeb is the key to the success of your high-traffic website. 
The company offers both managed and unmanaged VPS hosting. 
We'll know about their managed hosting in this article. It will let you know if it is a good fit for your high-resource website or application. 
A Gist about VPS 
VPS is a more secure and stable option than shared hosting, but affordable than dedicated server with durability and great speed. However, the space offered in VPS is on a smaller scale and less expensive than renting an entire server.
VPS hosting benefits the website owners who have moderate traffic that exceeds the limits of shared hosting plans but does not require the resources of a dedicated server.
Typically, virtual private server solutions provide more than one hosting plan. For example, at MilesWeb, they have ten VPS plans to meet various business needs and allow you to scale your site seamlessly when more resources are required.
What is VPS Hosting?
First, let us define VPS, which stands for a virtual private server.
A server is a powerful computer that stores all the data and files that comprise your website. When someone types your domain name into their web browser, your website is served up to the searcher's screen by that server.
Now for the virtual aspect: VPS used virtualization technology to divide the single powerful server we just discussed into multiple virtual servers. Consider it this way: it is a single piece of physical hardware that performs the functions of several separate servers.
The term private means exactly what it sounds like. Because your virtual server is dedicated to you, you will not have to share RAM, CPU, or data with other users.
How Does VPS Work?
A server is a computer that your web host uses to store the files and databases for your website. When an online visitor requests your website, their browser sends a request to your server, transferring the necessary files over the internet. VPS hosting provides you with a virtual server that mimics a physical server; however, the machine is shared by multiple users.
Your hosting provider installs a virtual layer on top of the server's operating system (OS) using virtualization technology. This layer partitions the server and allows user to install their own operating system and software.
As you have complete control over our VPS, a virtual private server (VPS) is virtual and private. On the OS level, it is isolated from other server users. VPS technology is similar to creating partitions on your computer when you want to run multiple operating systems (e.g., Windows and Linux) simultaneously without rebooting.
Running a VPS allows you to host your website in a secure container with guaranteed resources (memory, disc space, CPU cores, and so on) that you do not have to share with other users. You have the same root-level access as if you had a dedicated server with VPS hosting but at a much lower cost.
MilesWeb's Hosting Plans and Pricing
MilesWeb offers diverse VPS hosting plans to choose from based on the needs of your site or applications.
Their VPS hosting includes ten VPS hosting plans, numbered V1 through V10. Their entry-level hosting plan, V1, costs $9per month for a one-year subscription. The high-tier plan costs $465 per month for a one-year subscription.
You can currently save 25% off on their hosting plans.
Features offered by MilesWeb's VPS Hosting Plans
24x7x365 Days Customer Service
When you choose MilesWeb's managed VPS hosting, you receive the best support from industry experts. They will assist you in resolving your problems. If you have any web hosting-related issues, you can contact their support team. Even on holidays, they are available.
VPS Hosting Completely Managed
Their team of experts monitors your hosting account while you focus on growing your business with fully managed hosting. They are in charge of your VPS hosting account's maintenance, configurations, and other technical aspects.
There is no limit to how many email accounts you can create. MilesWeb understands the value of having email accounts to manage the various online operations. You can create an unlimited number of email accounts with professional ids at no extra charge.
VPS hosting provides you with dedicated resources that you do not have to share with other users. It functions as a self-contained server machine with its own resources.
There is no effect on website performance because you are not sharing resources. When you choose a VPS hosting plan, you get predefined resources for your hosting account that can be scaled based on your needs.
When you choose MilesWeb's hosting plan, your websites will be SSL certified. MilesWeb provides a Let's Encrypt SSL certificate at no additional cost. When you activate an SSL certificate on your website, the URL becomes HTTPS secure. The data flowing to and from the server will be automatically encrypted. An SSL certificate is a must-have for websites that want to gain visitor trust and improve their SEO rankings.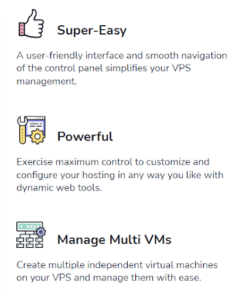 To summarize:
MilesWeb can be an easy-going option if you are looking for a faster and more reliable VPS provider in the market. They guarantee a 99.99 percent uptime on all VPS hosting plans, and their servers are located in the country's prime location, Mumbai. Sign up for MilesWeb's VPS hosting plans to get the best performance for your website on their lightning-fast servers.